I Like Big Butts – Sir Mix-A-Lot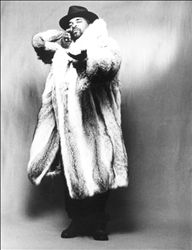 Inextricably linked with his pop culture touchstone "Baby Got Back," Sir Mix-A-Lot parlayed a gonzo tribute to women with large buttocks into hip-hop immortality, even despite his failure to score another hit of its magnitude. But even before he struck crossover gold, Sir Mix-A-Lot was one of rap's great D.I.Y. success stories. Coming from a city — Seattle — with barely any hip-hop scene to speak of, Mix-A-Lot co-founded his own record label, promoted his music himself, produced all his own tracks, and essentially pulled himself up by the proverbial American bootstraps.
Even before "Baby Got Back," Mix-A-Lot was a platinum-selling album artist with a strong following in the hip-hop community, known for bouncy, danceable, bass-heavy tracks indebted to old-school electro. However, it took signing with Rick Rubin's Def American label — coupled with an exaggerated, parodic pimp image — to carry him into the mainstream. Perceived as a one-hit novelty, he found it difficult to follow his breakout success, but kept on recording, and even toured as part of a rap-rock supergroup called Subset, a collaboration with the Presidents of the United States of America.
Sir Mix-A-Lot was born Anthony Ray in Seattle on August 12, 1963. An eclectic music fan but a rabid hip-hop devotee, he was already actively rapping in the early '80s, and co-founded the Nastymix record label in 1983 with his DJ, Nasty Nes, who also hosted Seattle's first hip-hop radio show. His first single was 1987's "Posse on Broadway," which referred to a street in Seattle, not New York; it became a local hit, and paved the way for his first LP, 1988's Swass, which also featured the popular novelty "Square Dance Rap," and a Run-D.M.C.-style cover of Black Sabbath's "Iron Man," with backing by Seattle thrashers Metal Church. The video for "Posse on Broadway" landed some airplay on MTV, and became Sir Mix-A-Lot's first national chart single in late 1988; that in turn pushed Swass into the Top 20 of the R&B album chart, and by 1989, it had sold over a million copies. Also in 1989, Mix-A-Lot released his follow up album Seminar, which produced three charting singles in "Beepers," "My Hooptie," and "I Got Game"; while none were significant crossover hits with pop or R&B audiences, all performed well on the rap singles chart, and helped Seminar become Mix-A-Lot's second straight platinum album.
Read More…allmusic.com
Got a request?
Want a song dedicated to you?
Please Contact Us with the song and artist you like, the name you want published and we will do our best to find it.
Nicknames are fine but nothing rude, please.