Miss Marple – Geraldine McEwan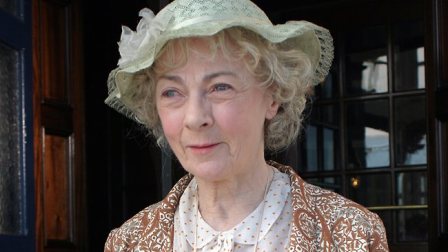 Geraldine McEwan (born Geraldine McKeown; 9 May 1932) is an English actress with a diverse history in theatre, film and television. From 2004 to 2009 she appeared as Miss Marple, the Agatha Christie sleuth, for the series Marple. Background and Family: McEwan was born Geraldine McKeown on 9 May 1932 in Old Windsor, Berkshire, England to Donald and Norah (née Burns) McKeown. She attended Windsor County Girls' School, then a private school, on a scholarship and took elocution lessons. In 1953 she married the former principal of the Royal Academy of Dramatic Arts, Hugh Cruttwell, whom she first met while working at the Theatre Royal, Windsor. They have a son Greg, who is an actor and screenwriter, and daughter Claudia. McEwan has not remarried since Cruttwell's death in 2002. Career:
As a teenager McEwan became interested in theatre and her extensive theatrical career began at 14 as assistant stage manager at the Theatre Royal, Windsor. She made her first appearance on the Windsor stage in October 1946 as an attendant of Hippolyta in A Midsummer Night's Dream and played many parts with the Windsor Repertory Company from March 1949 to March 1951, including a role in the Ruth Gordon bio play Years Ago opposite guest player John Clark. She made her first West End appearance at the Vaudeville Theatre on 4 April 1951 as Christina Deed in Who Goes There!, which was markedly successful.
Her career blossomed, with performances in such award-winning productions as The Rivals, The Way of the World and The Chairs. She appeared with Kenneth Williams in the original 1965 production of Loot by Joe Orton, which closed at the Wimbledon Theatre before reaching London. She spent several seasons with the Royal Shakespeare Company in the late 1950s and early 1960s, playing in many of the Shakespeare comedies; her roles included a rendition of Olivia in Twelfth Night in 1958. McEwan worked more than once with Laurence Olivier on both stage and screen, most notably in The Dance of Death staged by Glen Byam Shaw for the National Theatre at the Old Vic in February 1967. She made her directing debut in 1988 with the Renaissance Theatre Company's touring season, Renaissance Shakespeare on the Road, co-produced with the Birmingham Rep, and ending with a three-month repertory programme at the Phoenix Theatre in London. McEwan's contribution was a light romantic staging of As You Like It, with Kenneth Branagh playing Touchstone as an Edwardian music hall comedian. In the same season Judi Dench and Derek Jacobi also made their debuts as directors. Her numerous television credits included The Barchester Chronicles with Alan Rickman, The Prime of Miss Jean Brodie, Oranges Are Not the Only Fruit, Mulberry, and Mapp and Lucia (1985/6). She was also in the Cassandra episode of Red Dwarf, playing a prescient computer. In 2002, she starred in Peter Mullan's The Magdalene Sisters, giving a performance as Sister Bridget. In 1991, she played the evil Mortianna in the film Robin Hood: Prince of Thieves. In 2004,
McEwan was selected by Granada Television as the new face of Miss Marple, the Agatha Christie sleuth, for the series Marple. McEwan announced her retirement from the role after filming the third series. In 2005, she provided the voice of Miss. Thripp in the film Wallace & Gromit: The Curse of the Were-Rabbit and A Matter of Loaf and Death.
Awards: 1983: London Evening Standard Award for Best Actress, for The Rivals, 1991: BAFTA for Best Actress, for Oranges Are Not the Only Fruit, 1995: Evening Standard Best Actress Award for The Way of the World, 1998: Nominated: Tony Award Best Actress The Chairs, Selected filmography: Name Year Roles Other titles There Was a Young Lady 1953 Irene No Kidding 1960 Catherine Robinson Beware of Children (U.S.) The Dance of Death 1969 Alice The Bawdy Adventures of Tom Jones 1976 Lady Bellaston Escape from the Dark 1976 Miss Coutt The Littlest Horse Thieves (U.S.) The Prime of Miss Jean Brodie (TV series) 1978 Jean Brodie Foreign Body 1986 Lady Ammanford Mapp and Lucia 1985-1986 Emmeline Lucas (Lucia) Henry V 1989 Alice Robin Hood: Prince of Thieves 1991 Mortianna Moses 1995 Miriam The Love Letter 1999 Constance Scattergoods Food of Love 2000 Novotna The Magdalene Sisters 2002 Sister Bridget Pure 2002 Nanna Vanity Fair 2004 Lady Southdown The Lazarus Child 2004 Janet Carrie's War 2004 Mrs. Gotobed Arrietty 2011 Haru {voice} Playing Miss Marple in Marple, ITV, 2004-2008: Name Year Marple: The Body in the Library 2004 Marple: The Murder at the Vicarage 2004 Marple: 4.50 from Paddington 2004 Marple: A Murder Is Announced 2005 Marple: Sleeping Murder 2005 Marple: The Moving Finger 2006 Marple: By the Pricking of My Thumbs 2006 Marple: The Sittaford Mystery 2006 Marple: At Bertram's Hotel 2007 Marple: Ordeal by Innocence 2007 Marple: Towards Zero 2008 Marple: Nemesis 2008
Picture source…..resources0.news.com.au