Recipes: Pumpkin Curry And Bacon Soup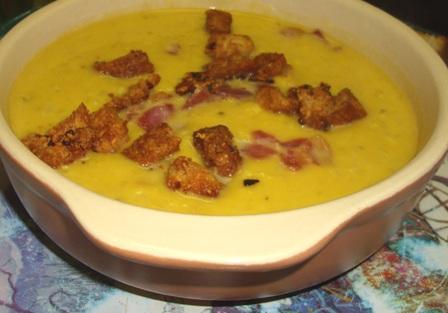 Ingredients:
1 whole pumpkin of your choice
2 onions
1 tablespoon curry powder
400g bacon rashers, cut into small pieces
Salt and pepper to taste
400ml thickened cream, or more to taste
1 tablespoon garlic (optional) as a paste or chopped cloves
1-3 tablespoons sugar (optional)
Prep: 20 minutes | Cook: 45 minutes
Cut pumpkin into small wedges, discarding seeds and skin, and add to large pot of water.
Dice the two onions and add to pumpkin and water and cook until tender and soft.
Whilst the pumpkin is cooking, saute garlic along with bacon pieces.
Set aside when browned.
When pumpkin and onion are cooked, drain and mash or use a food processor.
Add salt and pepper to your taste and curry powder.
Mix well. Slowly pour in cream.
When mixed, add bacon pieces.
Consistency should be thick. Stir in sugar, to taste-if using.