Recipes: Pasta in Lemon Cream Sauce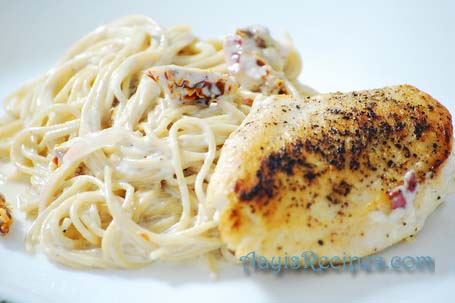 This is total luxury:
The tang of lemon hidden under creaminess.
When served plain on a delicate pasta, it is sophisticated and elegant.
45 grams (angel hair or another light noodle) pasta
1 1/3 cups heavy cream
1 Tablespoon freshly grated lemon rind (about 2 lemons worth)
1/2 cup butter, cut into pieces
2 teaspoons lemon juice
1 ½ cups freshly grated Parmesan cheese
½ teaspoon freshly grated nutmeg salt and pepper to taste
lemon wedges
Cook pasta as directed, al dente, then drain.
In a small, heavy saucepan, combine the cream and the lemon rind.
Bring it to a boil and boil for 3 minutes.
Reduce heat to medium low and whisk in butter chunks.
Whisk until butter is completely melted.
Add the lemon juice, Parmesan cheese, nutmeg.
Salt, and pepper (to taste) and continue to whisk over low heat until the cheese is completely melted.
Toss with hot pasta.
Serve immediately with lemon wedges.