Recipes: Hot Chocolate Soufflés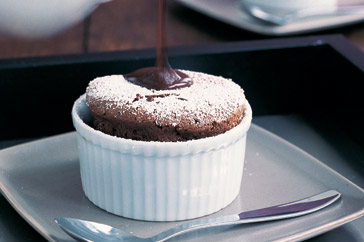 Ingredients:
Serves: 2
25g caster sugar
50g dark chocolate
2 eggs
Knob of softened butter and a little extra caster sugar to line the ramekins
Cocoa powder to dust
Prep: 15 minutes | Cook: 10 minutes
Rub butter around the inside of the ramekins then add about 1 teaspoon of caster sugar and swirl it around so that the butter is covered with a thin layer of sugar.
Throw away any sugar that hasn't stuck.
Break the chocolate into small pieces and place in a bowl over simmering water until it melts.
Separate the eggs.
Use a wooden spoon to mix the yolks with the caster sugar until the mixture becomes creamy.
Stir the mix into the chocolate.
Whisk the egg whites.
It will take a few minutes until they become light and fluffy.
Add 1 teaspoon of sugar and keep whisking until it is thick and shiny.
Stir a spoonful of the whites into the bowl of chocolate and stir gently to loosen the mix.
Carefully fold in the rest of the egg whites using a large metal spoon.
Spoon the soufflé mix into the ramekins and bake for around 10 minutes when they should have risen but still have a little wobble in the middle.
Take them out of the oven and put the ramekins onto a serving plate.