Recipes: Chicken And Leek Pie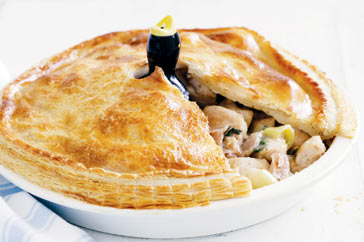 * COOKING TIME:1 hour 00 minutes
* PREP TIME:15 minutes
Ingredients
* 4 chicken thighs salt and freshly ground pepper
* 1 tsp olive oil *2 tbsp Coles butter
* 1 onion, finely diced *1 leek, cut in half lengthwise and then into 1cm strips
* 1 tbsp Masterfoods wholegrain mustard *¼ cup Coles plain flour
* 1 cup chicken stock, (Massel stock cubes) *¼ cup Coles thickened cream
* ½ tbsp tarragon *1 sheet frozen Pampas puff pastry, thawed
* 1 egg, beaten with tbsp milk to glaze pastry *sesame seeds, garnish
Method Preheat oven to 200º.
Sprinkle chicken with salt and pepper and drizzle with olive oil.
Place on large baking tray and roast for 15 minutes.
Turn and roast for a further 15 minutes until cooked and golden brown.
Set aside to cool slightly and reduce oven temp to 180º.
Reserve the pan juices.
When cool enough to handle, shred chicken into large chunks and place in a bowl. Discard sinew, bones and skin.
Melt butter in large heavy saucepan over medium heat.
Add onions and leeks and sauté for 5 minutes or until tender but not browned.
Stir in mustard, then flour and cook over low heat for 2 minutes, stirring constantly.
Slowly whisk in chicken stock, cream and pan juices.
Simmer, stirring occasionally, for 5 minutes or until sauce thickens.
Stir in shredded chicken, tarragon and season to taste with salt and pepper.
Set aside to cool, then refrigerate.
To assemble the pie, spoon the chicken mixture into a baking dish.
Drape thawed puff pastry over the baking dish and press firmly around the rim to seal.
Cut slits into the top, brush with egg and milk wash and garnish with sesame seeds.
Bake in oven for 50 minutes or until pastry is golden brown.
Set aside to cool slightly before serving.