Recipes: Caramel Slice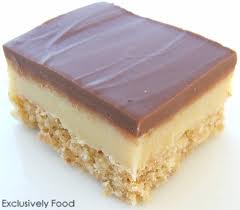 Ingredients
For the shortbread base
1 2/3 cups (220g) plain flour
165g butter
1/3 cup (90g) white sugar
For the caramel filling
1 tin sweetened condensed milk
125g butter
2 tablespoons golden syrup
375g dark chocolate
Prep: 15 minutes | Cook: 30 minutes | Extra time: 3 hours, chilling
Place first three ingredients - flour, butter and sugar - in a food processor and process until mixture looks like breadcrumbs.
Press into a 20cm x 20cm tin.
Bake at 190 degrees C for 15-20 minutes or until golden brown. Cool.
Put the condensed milk, butter and golden syrup into a medium sized saucepan and bring to the boil. Reduce heat and simmer for 5 minutes. Pour mixture onto cooled base and refrigerate 3-4 hours.
Melt dark chocolate in a double boiler or in the microwave, checking stirring ever 30 seconds.
When melted evenly, spread over caramel and cool in fridge.
When chocolate is just beginning to set, cut into bars.