Recipes: Basil Pesto Pasta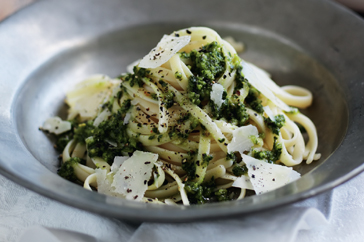 Cooking Time: 15 minutes
Ingredients:
375g dried linguine pasta
1 cup fresh basil leaves
2 tablespoons pine nuts, toasted
1 garlic clove, crushed
2 tablespoons grated parmesan cheese
1/4 cup extra-virgin olive oil
Shaved parmesan cheese, to serve
Cook pasta in a saucepan of boiling salted water, following packet directions until tender.
Drain. Return to pan.
Meanwhile, process basil, pine nuts, garlic and parmesan, scraping down sides occasionally, until almost smooth.
With motor running, add oil in a slow, steady stream.
Process to combine. Season with salt and pepper.
Add pesto to pasta.
Toss to combine. Serve