We're Doomed Doomed
We're Doomed Doomed
Gifts For Men Are Hard To Find
About us
If you just won the lotto, what would you buy?
Don't say all that boring stuff like, pay the morgatge, buy a boat, take a vacation, quit your job (hmmm come to think of it, quitting that job could be fun!).
How about owning your very own life sized, limited edition, individually numbered and fully licensed hand built replica of the Lost in Space Robot?
The Lost in Space Robot is one of pop cultures top animations and what makes this replica so cool is that it has over 500 voice tracks recorded by the original voice in the 1965 TV show, Richard Tufeld who sadly passed away in January 2012.
With phrases such as "Danger, Will Robinson" The Lost in Space Robot also has a functional Power Pack.
When you Pull the Robot's "Power Pack" out, it will shut down the Robot with the "Aaghhhhhh..." sound, just as it did in the TV series when Dr. Zachary Smith wanted to shut him up.
Plugging in the power pack activates the Robot and he will speak an appropriate phrase, "Who turned out the lights?", etc. You will feel as though you are onboard the Jupiter 2 with all the cast.
The Robot is a Class M-3 Model B9, General Utility, non-theorising environment control robot, which has no given name.
Although a machine endowed with superhuman strength and futuristic weaponry, he often displays characteristics such as laughter, sadness and mockery as well as singing and playing the guitar.
Why us
Our aim is to make your men's gift shopping experience enjoyable and hassle free because we want to see you again and again.
Recommended Reading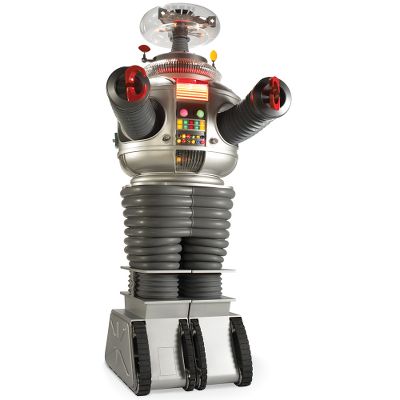 A New Advanced Solution...
Gifts For Men Are Hard To Find
More Information About...
We're Doomed Doomed
Our Recomendations
Rating: 5 out of 5 stars
Gifts For Men Are Hard To Find
Rating: 5 out of 5 stars
Gifts For Men Are Hard To Find
Google