T-800 Endoskeleton Life Size

Replica
T-800 Endoskeleton Life Size Replica
Gifts For Men Are Hard To Find
About us
Terminator - T2 T-800 Endoskeleton Ver 2 Life-Size Replica.

From the 1991 James Cameron classic sci-fi smash Terminator 2: Judgement Day, starring Arnold Schwarzenegger, Edward Furlong, Linda Hamilton and Robert Patrick, comes this 1:1 scale replica of one of the most fearsome and relentless enemies of all time, the T-800 Endoskeleton.

Standing over 6 feet tall, almost 2 metres, on a base of human skulls the T-800 Endoskeleton Version 2 is poised with it's two plasma guns and is made up of high quality polystone, metals, fiberglass, and other materials and features electronic light-up eyes for that extra sinister look.

The Terminator T-800 Endoskeleton will be the centerpieces of any movie buffs collection, perfect for your home, office, or theater room.
Why us
Our aim is to make your men's gift shopping experience enjoyable and hassle free because we want to see you again and again.
Recommended Reading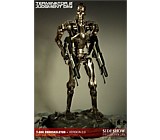 A New Advanced Solution...
Gifts For Men Are Hard To Find
More Information About...
T-800 Endoskeleton Life Size Replica
Our Recomendations
Rating: 5 out of 5 stars
Gifts For Men Are Hard To Find
Rating: 5 out of 5 stars
Gifts For Men Are Hard To Find
Google