Star Wars C-3PO
Star Wars C-3PO
Gifts For Men Are Hard To Find
About us
Crafted from fiberglass and various quality materials, these sought-after droids are sure to be the centerpieces of any Star Wars collection, perfect for your home, office, or theater room.
Figure will include light and sound function, for the most 'real' experience possible.
The light and sound will be powered by the included power cord and U.S. plug, with International (EU) adapter also included.
There is no battery option.
Each figure will include a display base, perfect for keeping your favorite droid in a comfortable standing position.
C-3PO will include a restraining bolt accessory, which you may attach via magnets imbedded in the figures.
Why us
Our aim is to make your men's gift shopping experience enjoyable and hassle free because we want to see you again and again.
Recommended Reading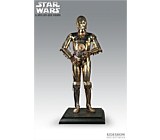 A New Advanced Solution...
Gifts For Men Are Hard To Find
More Information About...
Star Wars C-3PO
Our Recomendations
Rating: 5 out of 5 stars
Gifts For Men Are Hard To Find
Rating: 5 out of 5 stars
Gifts For Men Are Hard To Find
Google