Linear Imaging Readers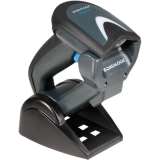 Linear Imaging Readers
Extremely Versatile And Durable
About us
The Gryphon family represents the premium line of Datalogic ADC's general purpose handheld data collection products.
The Gryphon cordless linear imaging readers offer the richest feature set among general purpose product offerings.
Extremely versatile and durable, the Gryphon cordless linear imaging readers are the ultimate solution for applications in retail and light industrial environments where mobility is necessary for improved productivity.
Mobile communications also eliminate the restraints caused by cabled devices, providing a safer and more efficient environment for employees.
Narrow band radio communications with Datalogic's Cordless System is the key to increased productivity and flexibility in the workplace. The reader series offer scalable solutions from simple point-to-point applications to networking capabilities for complex installations.
An optional display with a 3-button keypad provides battery status, radio coverage indicator and enables operator interaction with the host system.
Datalogic's new, patented 2-position cradle provides multiple solutions to answer different functional and reduced space requirements.
It provides hands-free reading capabilities and a scan-while-charging feature to ensure constant up-time for increased productivity.

All products can be found at TheNerds.net.

Our team of Nerds has worked to put together one of the largest selections of computer parts and accessories in this country.
With over 125,000 parts in stock daily, our commitment to excellence has shone through to our millions of on-line customers.
We understand that pricing is a huge concern to all.
We have pledged to take the responsibility of pricing our products appropriately.
Why us
Service is, and will continue to be, the key to "The Nerds" success. Our dedication and support will make "The Nerds'" your only on-line store for computer hardware, software, and accessories.