Games Galore at Big Fish

Games Galore at Big Fish
A New Game Every Day
About us
Founded in 2002, Big Fish is the world's largest producer of casual games; dedicated to bringing engaging entertainment to everyone, anywhere, on any device.

Through its proprietary, data-driven platform, millions of consumers seeking engaging entertainment easily discover and play PC and mobile games created by Big Fish's network of more than 600 development partners and its in-house Big Fish Studios.

The company has distributed more than 2 billion games from a growing catalog of 3,000+ unique PC games and 300+ unique mobile games.

Big Fish's games are played in more than 150 countries on a wide variety of devices across 13 languages.

The company is headquartered in Seattle, WA, with regional offices in Oakland, CA; Cork, Ireland; Vancouver, Canada; and Luxembourg.

Now you can purchase your favorite Big Fish game at any one of these major retail stores.

We will be adding to our retail offerings, so keep a sharp look out for more great titles from Big Fish hitting store shelves near you.
Why us
Our Best Selling PC Games Are Now Available In Stores
Recommended Reading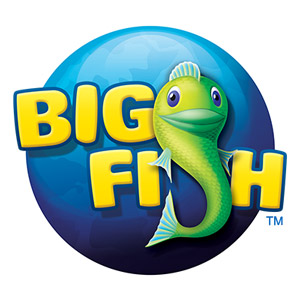 A New Advanced Solution...
A New Game Every Day
More Information About...
Games Galore at Big Fish
Our Recomendations
Rating: 5 out of 5 stars
A New Game Every Day
Rating: 5 out of 5 stars
A New Game Every Day
Google