1920s Flapper Dress Design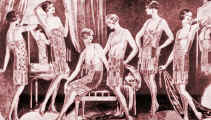 1920s Flapper Dress Design
1920's Flapper Dress Pattern.
About us
When announcement was first made in 1923 that Mary Brooks Picken of the Woman's Institute had developed a new plan by which an attractive dress could be made in an hour, it aroused tremendous interest among women everywhere.
You can have as many "One Hour Dresses" as your heart desires, in infinite variety, for the "One Hour Dress" is not a style of dress, it is a method of making.
It is a new and simple plan by which the dress you select from the many designs in this book can actually be cut out, put together, finished all complete in sixty minutes.
Why us
If you could find an original 1924 copy of this rare publication it would cost you over $100.