Travelers May Turn to Road

Trips as Airfare Climbs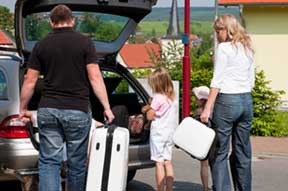 Airlines have attempted to raise airfares 12 different times this year, according to JP Morgan analyst Jamie Baker. Although only four attempts have been successful, the vigor to raise airfares is alarming. With these new pricing demands, road trips could be a more affordable and flexible option as families make travel plans for the holidays.
Those looking to avoid the hassle of spiking airfares, baggage costs and air travel delays may opt to take their trip by car and experience holiday travel from the road. Although gas prices are rising, depending on the length of the trip, the cost of driving could be significantly less expensive than purchasing multiple roundtrip plane tickets at peak holiday prices.
In addition to being inexpensive, road-tripping families may also prefer the flexibility of traveling by car. Driving lets families set their own schedule and gives them the opportunity to stop along their route to enjoy attractions like national parks, beaches or local holiday displays while experiencing local food and culture.
Born from a time when everyone traveled by car, America has a built-in network of small businesses that support road travelers. There are plenty of businesses, including hotels, set along America's highways that cater to travelers when they need a meal or a rest.
When families need to stop for the night, roadside hotel chains like Knights Inn, which offers affordable room rates, complimentary breakfast and the opportunity for Wyndham Rewards members to redeem their loyalty points for a free night stay, are there to accommodate road-weary travelers.
Being economical does not only mean saving money on airfare. Families who decide to road trip for the holidays will save time and money in the long run by preparing their car for the trip. Getting a tune up and performing small maintenance checks like getting an oil change, checking air pressure in the tires and replacing windshield wipers are recommended before hitting the road. If the family car is not road-ready, renting a car could be a viable and affordable option if it fits within the travel budget.
With the rising cost of airfare possibly putting more cars on the highways this holiday season, a successful road trip will depend on planning. So, travelers should study their route, research local events and investigate cost-saving opportunities like hotel discounts, redeeming points with loyalty programs and preventative car care. It can't hurt, and it could save on the cost of dinner or a tank of gas.
NewsUSA