Taylor And The Makers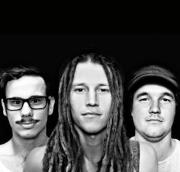 Taylor And The Makers. Renowned for their live performances, this impassioned trio will take you on one of the most engaging musical rides of your life.
Biography:
Pushing all genres, whilst creating immense atmospheres and personality, is the organic sound of Taylor and The Makers.
This impassioned trio has built a reputation on their live performances.
With a show that's both absorbing and engaging, they have produced a creative take on roots music.
Since their conception in late 2010, Taylor and The Makers have fast become a festival favourite due to the delivery of an infectious energy and charisma that's become uniquely their own.
May 2011 saw the worldwide release of T&TM's debut EP and subsequently saw the band tour the East Coast of Australia, sharing the stage with the likes of Tiki Taane and The John Butler Trio.
2012 will see T&TM back in the studio recording their next release.
Artists We Also Like:
John Butler Trio, Dave Matthews Band, Michael Franti and Spearhead, Ben Harper, Bob Marley, John Mayer, Newton Faulkner.
Click HERE to check out their Gig's on Facebook.