Create Fun and Affordable Stockings

for the Whole Family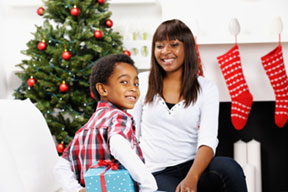 Creating memorable holiday stockings for the whole family should be fun and simple. Once the big gifts are out of the way, stuffing stockings can be a breeze.
Stockings are a perfect way to give small, creative gifts. Don't limit yourself by thinking inside a small, sock-shaped box. Some of the most thoughtful and sentimental items are pocket-sized and make perfect stocking stuffers.
Create stockings bursting with jelly beans, mobile phone accessories, DVDs, framed photos, movie passes or amusement park tickets. Save money on all your stocking stuffers by shopping at discount stores, like Dollar General.
Dollar General offers a wide assortment of gifts that are ideal for stockings. Not to mention, it has a great selection of holiday items that cost only a dollar.
Here are a few tips to help you create a fun stocking:
1. Take advantage of discount prices. You can buy a variety of fun items at discount stores, especially for kids. For instance, Dollar General has stockings, candles, pens and pencils, notepads, cards and toys that all start at one dollar. For young adults and teens, there are arts and crafts, scrapbooking items, make-up, lotion, digital cameras, chocolate, games and more.
2. Stick to a theme. If your creativity is already shot when it comes to holiday gift-giving, brainstorm stocking themes to get your gears turning. Does your 12-year-old love sports, books or wildlife? Maybe your son loves videogames, or your daughter loves dance. Either way, there's probably a hobby or interest that you can base the stocking around. Once you establish a theme or pattern, it's easy to find related gifts that family members will love.
3. Include one big item guaranteed to please. For each family member, save one of their home-run presents for their stocking. It doesn't have to be huge or expensive, just something you know they will adore. Perhaps a nice piece of jewelry, a tech gadget, concert tickets or a prepaid gift card. If you splurge a little on one gift and get a variety of other goodies at discount prices, you'll still have a personal, memorable stocking at a great value.
NewsUSA