3 Ways to Admire the Smoky

Mountains in Pigeon Forge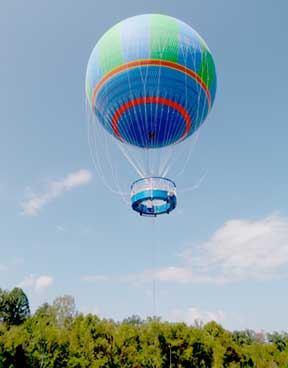 Visitors often ask where to find the best views of the
Great Smoky Mountains
scenery that frames Pigeon Forge, Tenn.
There are three new vantage points directly in Pigeon Forge. They involve a wild ride, a giant balloon and the top of a very odd building.
The Wild Ride
The wild ride is Wild Eagle, an innovative roller coaster at Dollywood that was the first of its design in the U.S.
It rises 21 stories into the sky atop Dollywood's highest ridge, meaning you get a spectacular view just before you begin your 3,127-foot race back down.
Wild Eagle is a wing coaster, meaning its seats stick off the coaster's track like wings on a giant raptor -- there's nothing overhead and nothing beneath your feet as you fly through the mountain scenery.
The Giant Balloon
Decidedly gentler is Wonders of Flight at the WonderWorks attraction.
Wonders of Flight is a blue and green French-built helium balloon 72 feet in diameter. It's big enough to lift a gondola carrying you and 29 others 400 feet up.
There's no chance you'll fly away, because a steel cable tethers you to earth. It's as quiet as an elevator except for passengers' "ooohs" and "aaahs" as they inspect the 360-degree view. In one direction are the Smokies, and far, far on another horizon are the Cumberland Mountains and the famed Cumberland Gap, where Tennessee, Kentucky and Virginia link up.
Atop a Tall Building
Most visit the Hollywood Wax Museum to pose with figures that look just like Marilyn Monroe, John Wayne, George Clooney and Bradley Cooper.
However, there's a surprise if you visit an exterior observation level. The building is strategically located to offer a stunning view of Mt. LeConte, altitude 6,593 feet, inside Great Smoky Mountains National Park.
Look another direction, and the mountains are framed by the gaping mouth of the Great Ape of Pigeon Forge, a figure clinging to the building like another famous ape that visited New York City.
Pigeon Forge information sources: MyPigeonForge.com and 800-251-9100.
NewsUSA